The Essential Elements of Traditional Kitchen Design
Despite the rise of modern and farmhouse design, traditional kitchens are still among the most popular kitchen styles. Their basic color palette and elegant design scheme create a beautiful space that will stay on trend for a long time.
A key feature of traditionally designed kitchens is the attention to detail; every room should have details and decorations that look layered but not overbearing. If this is the kitchen you're dreaming of, feel free to contact kitchen remodeling experts to help you get there. seven basic features of traditional style kitchens and help you incorporate them into your own renovation.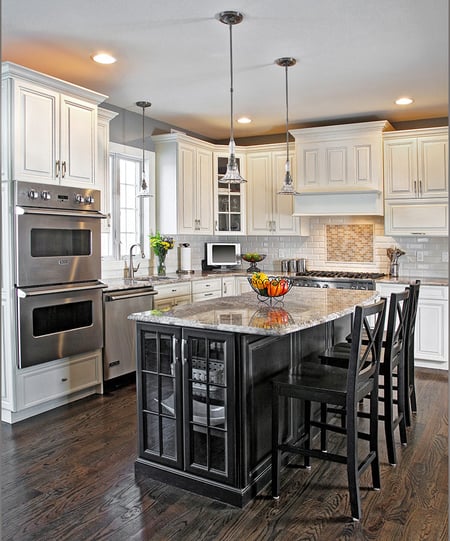 What are the features of traditional kitchen design?
Here 7 Essential Features of Traditional Style Kitchens and how they can impact your dream kitchen renovation.
1.
Create a spacious look with raised panel doors
Primarily traditional cabinet styles almost always include types of doors with false panels. These doors range from simple racing panels such as the Vintage raised panel to more decorative options such as the Hamilton raised panel with various raised and recessed surface planes.
You will often read that traditional cabinet doors require more thorough cleaning and maintenance. This is true to some extent. However, modern laminate door options are extremely durable, allowing the low-maintenance household to keep traditional cabinets looking brand new. Better yet, we have wood grain laminate cabinet door stylesso you don't have to sacrifice looks for simple kitchen maintenance.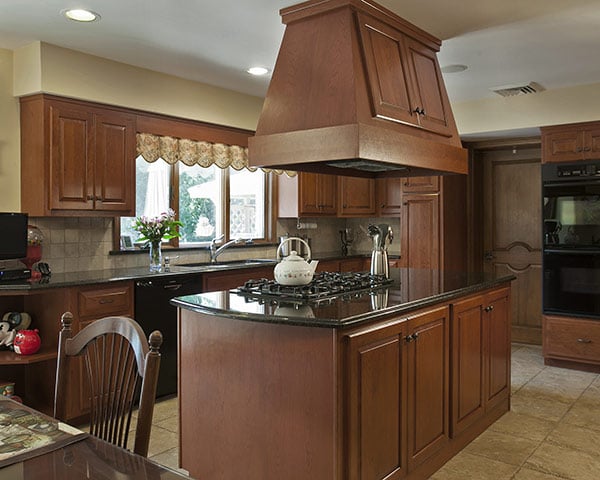 2.
Make a statement with a distinctive cabinet glaze
While we're talking about cabinet door panels, glazes deserve some attention, too much. Cabinet glazes add depth and dimension for added contrast and visual interest. They can also help add warmth to a colder kitchen color palette. For example, many of our customers in and around Montgomery County love all-white kitchens but prefer to add warm frosting to keep the overall look from being too sterile.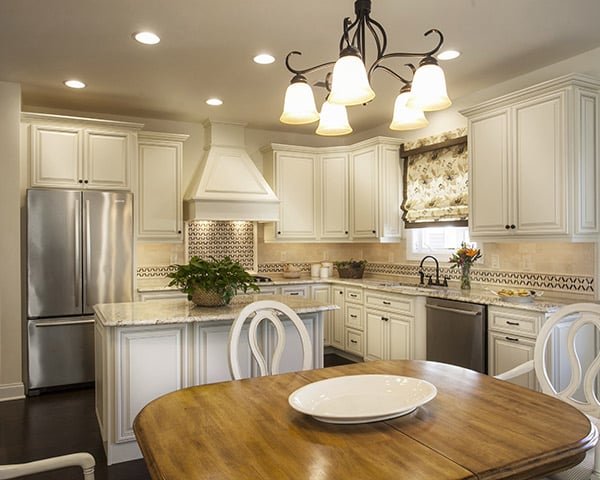 3.
Include decorative accents and details
Traditional kitchen design highlights details, including accents such as island wainscoting, moldings, overhangs, and pieces of furniture that adorn every area of ​​the room. Wherever you look in a traditional kitchen, there must be an element of decoration, architectural design, or enhanced items with decorative accessories.
During a design consultation, we can show you examples decorative details for your cabinets, including things like rope or patch molding that elevate the aesthetic of your cabinet door to the category of luxury.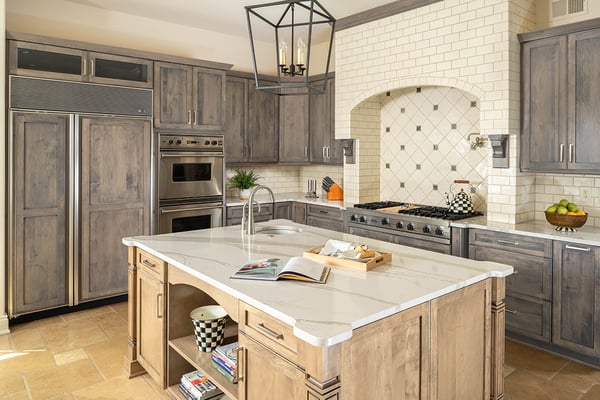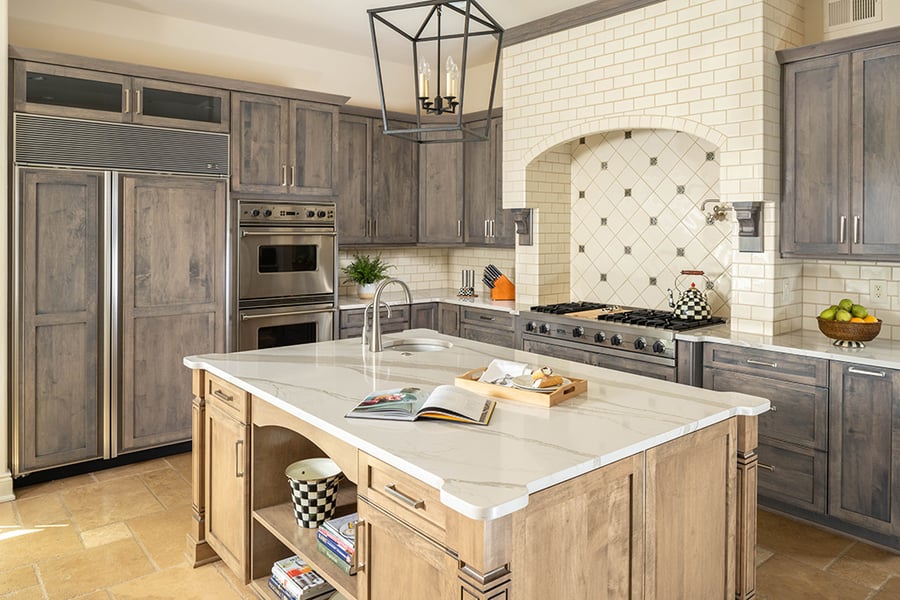 4.
Add a touch of homey charm with wood patterns.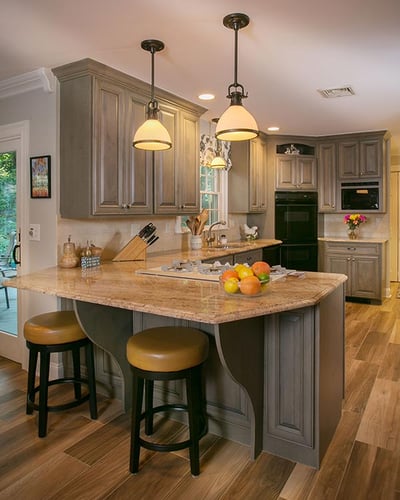 While cherry finishes are out of the trend cycle for now, wood textures are popular. If you have a small kitchen with limited access to natural daylight, we recommend using a lighter wood grain. However, if your kitchen has a lot of daylight, feel free to choose a darker and more saturated finish. Your cabinet designer can help you determine which cabinet door material—real wood or wood grain laminate—is best for your home.
If you're worried that real wood cabinets are going out of style anytime soon, try mixing and matching cabinet finishes – natural wood on some of your cabinets and painted wood on others. Contrasting cabinetry is actually a smart way to add interest and visual appeal to any kitchen design.
5.
Pay attention to the doors of glass cabinets
Glass cabinet door panels are a smart addition to any kitchen remodel for several reasons. First, they go with any kitchen design trend, making it easy for you to change your kitchen style in the future without reinventing the wheel. Second, the cabinet's glass door panels allow color to show through depending on what you want to store or display inside.
Finally there is several options for individual design of glass panels Ideal for traditional kitchens, including decorative leaded glass panels, colorful stained glass, etched glass, frosted glass and other artistic options.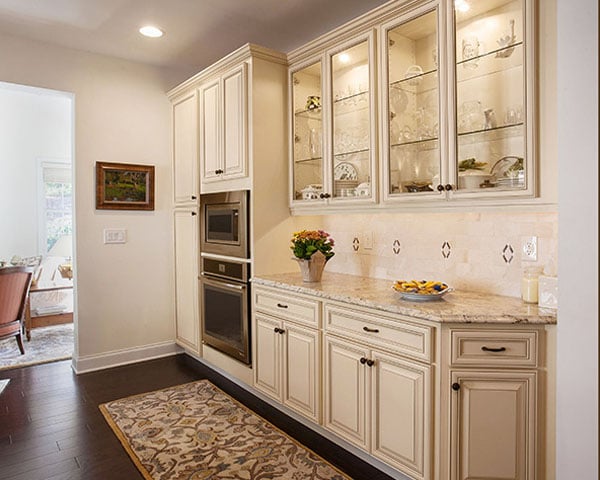 6.
Choose the right cabinet lighting
Don't forget cabinets when designing kitchen lighting. Kitchen cabinets offer a range of areas to house concealed lighting fixtures that provide safety, task and ambient lighting. Cabinet lighting is the most common way to add simplistic lighting options to a kitchen.
Combined with a dimmer switch, under cabinet lighting provides the exact amount of light depending on the task or mood. If you choose to use glass panels, we recommend looking into cabinet interior lights, which provide a beautiful glow and showcase your furnishings after dark.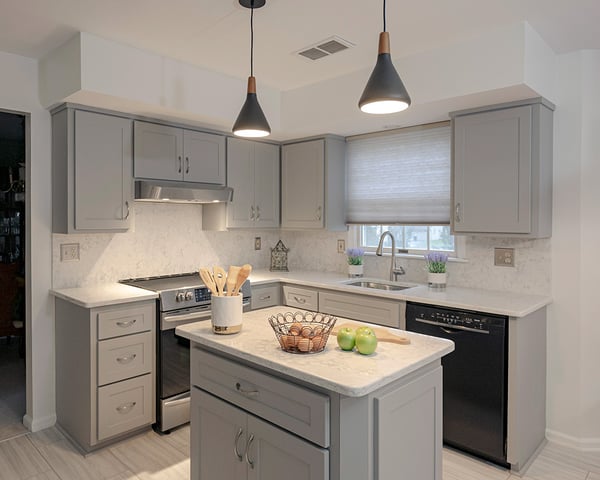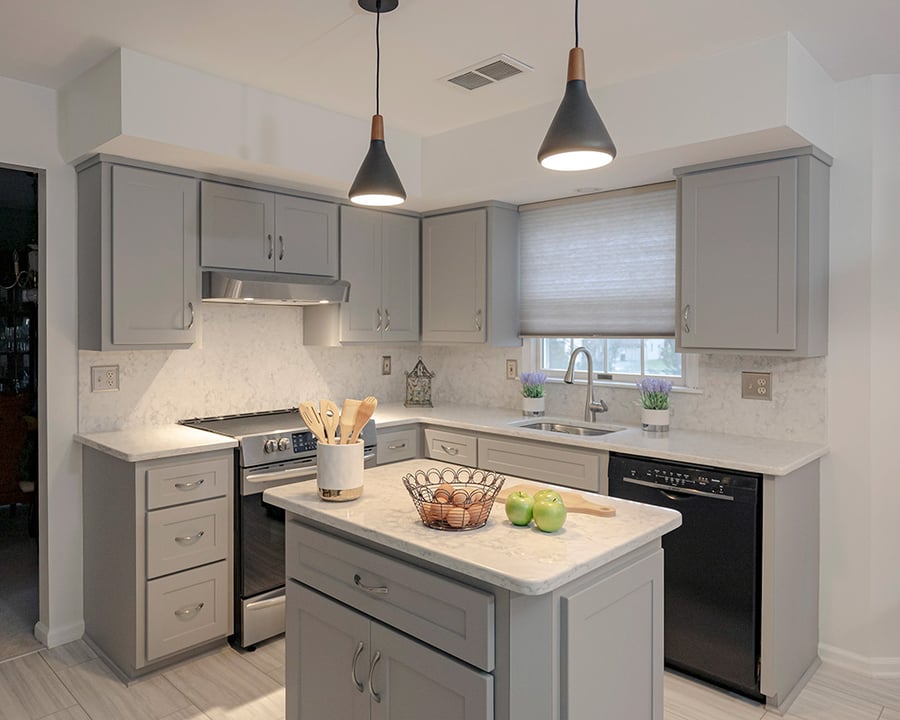 7. Update your apron
Colorful and patterned aprons in interesting materials have become a popular choice for homeowners over the past few years. However, in a traditional kitchen, an apron can feel over the top and complicate the space because you already have so much in terms of decorative accessories.
If your previous kitchen design included a rich or more ornate backsplash, this is your opportunity to rethink and freshen up the backsplash using simple color, style, and materials. For example, try a corian hard surface apron with a diamond or metro pattern in Sandalwood or Glacier White for a simple backdrop that is also functional and requires absolutely no grout!