What's the Best Kitchen Countertop Material: Corian, Quartz or Granite?
One of the first things you may notice in a kitchen is the countertop. However, when it comes time to choose your own kitchen countertop, it may require more than just looks to be considered. There are many factors to consider. But the answer to the main question is "What is the best material for a kitchen countertop?" — really comes down to which one is best suited to your home, kitchen, and design style preferences.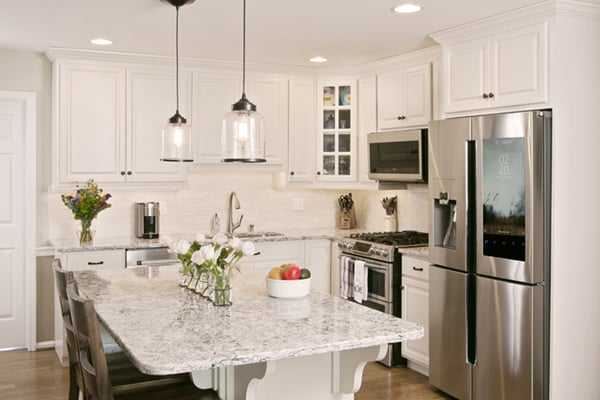 Cambria Quartz at Berwyn
Comparison of kitchen worktop options
Corian® quartz, granite and solid surfaces can be transformed into countertops in a variety of shapes and sizes to suit almost any kitchen space. In terms of functionality and style, each offers slightly different benefits including looks, durability, maintenance and overall cost.
Appearance of the kitchen countertop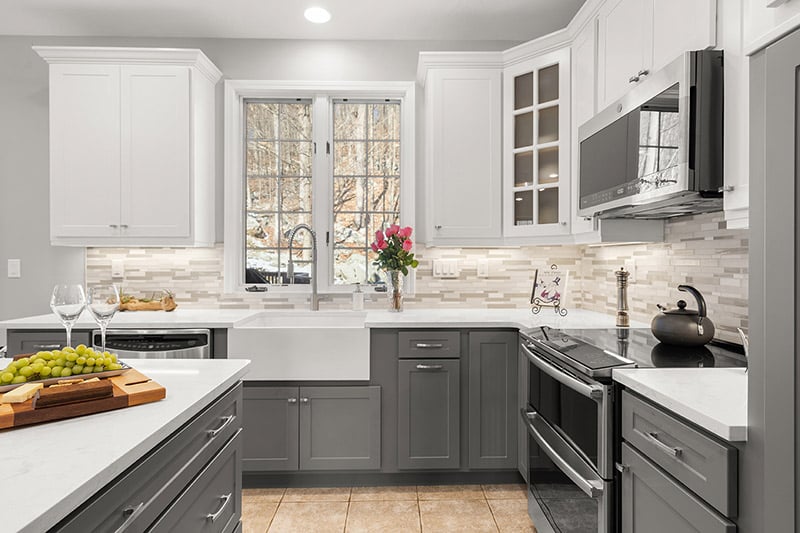 Cambria Quartz countertops at Weybournne
Seamless look. Made from an advanced blend of natural minerals and pure acrylic polymer, Corian solid surface wins the award for seamless countertop design as it can be installed without visible seams.
Natural beauty. Granite is a top style contender in terms of organic color and pattern. Because stone is found in nature, minerals are deposited in each beautiful, unique granite slab, so each countertop is an original work of art.
Rich color options. All three top material options offer different colors. If you prefer more playful colors (i.e. yellow, orange, purple, green, etc.), then solid surface corian and quartz are great options as they are both made using artificial pigments and recycled materials.
Durability and maintenance of countertops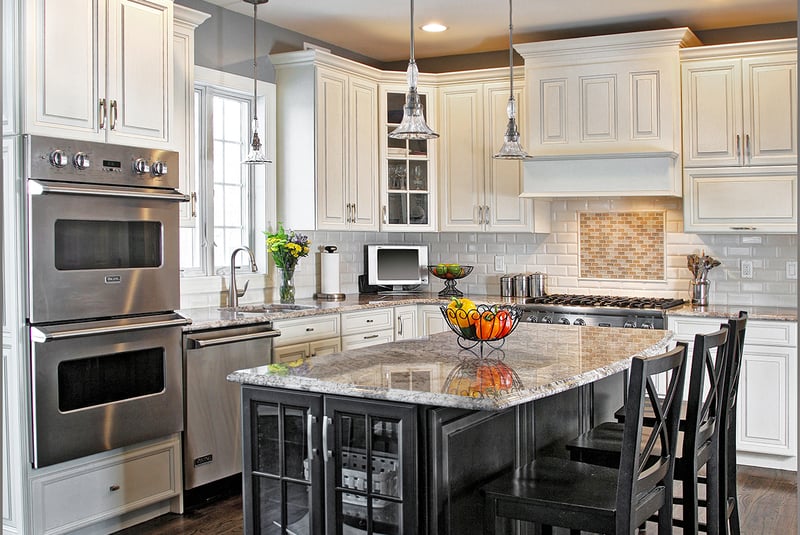 Granite countertops are shown in Cream Typhoon
How durable does your countertop need to be to match your lifestyle? How much time do you have to service your countertop? These are important questions that will undoubtedly influence your choice. Quartz is the clear leader because it is virtually indestructible and does not require sealing or special cleaning. Quartz and Corian surfaces are non-porous, stain-resistant and extremely hygienic. Granite is also durable, but can still be prone to cracking, cracking, and staining. And maintenance of granite requires simple but regular sealing.
Also read: The Best Countertop Surfaces to Minimize Germs in Your Kitchen
Sustainable kitchen countertop design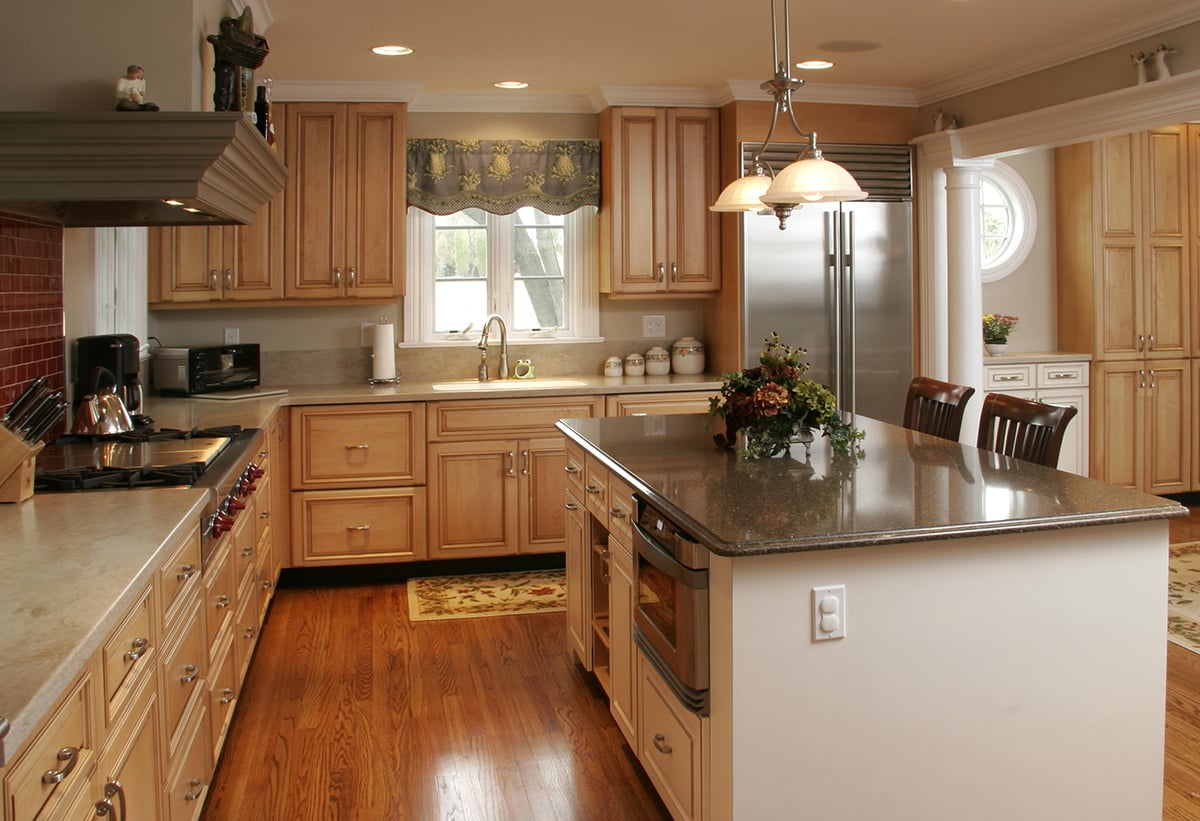 Cambria quartz island and Corian Solid Surface countertop shown in Tumbleweed
If sustainable materials and design are important to you in your home, here's what each countertop material looks like:
Quartz The countertops are heavy duty and made in the USA. Questionuartz countertop slabs contain one of the most productive minerals on earth, as well as recycled materials before and after consumption. They last almost forever, that's why they come withwith a lifetime warranty!
Corian not only durable, but also maintainable. Because they are man-made, hard surfaces do not require a level of mining to produce. They are also easier to care for than many other materials.
Granite is a natural product and must be carefully quarried and transported to avoid damage, making granite the lowest tier option in terms of sustainability.
Budget kitchen countertops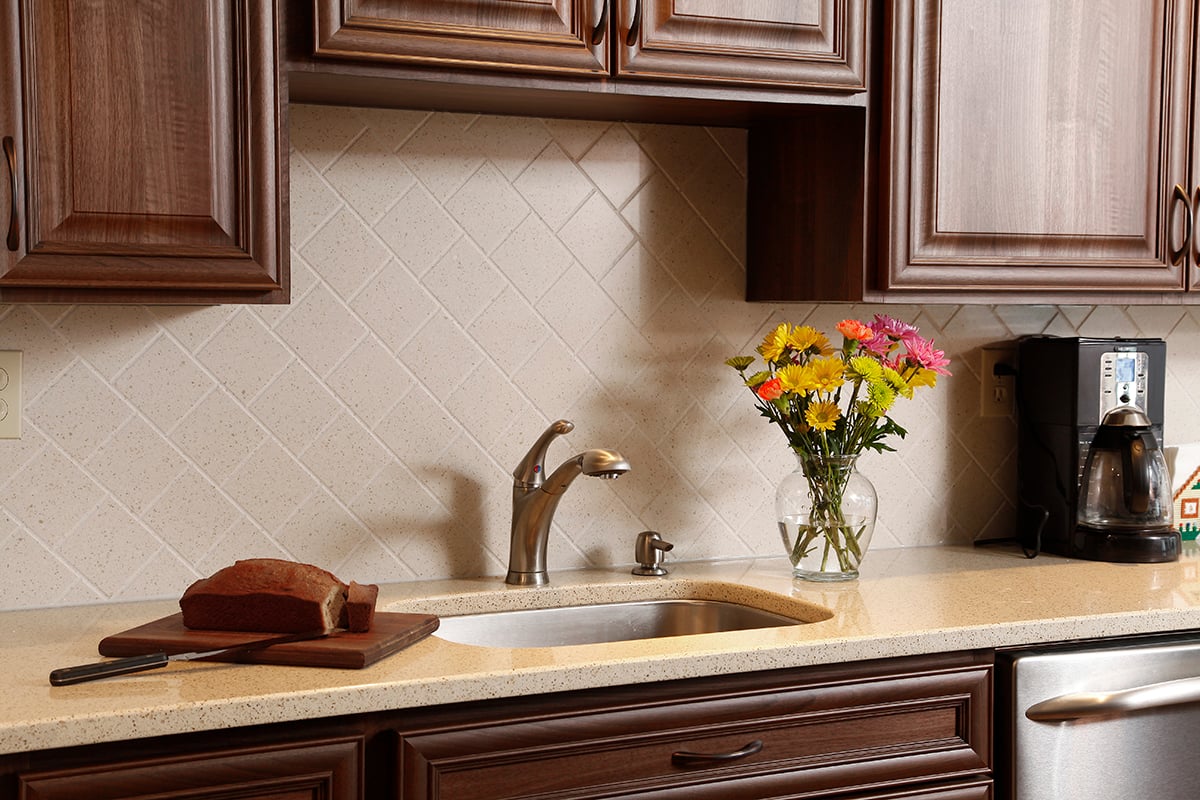 Corian quartz countertops are shown in Corriander and the solid surface backsplash is shown in Cottage Lane.
While sites like HomeAdvisor provide data on average costs across the country, we urge homeowners to be wary of rough estimates. The cost of a kitchen countertop will vary greatly depending on factors such as the size of your kitchen, whether you have or want an island, and the materials, finishes, and thicknesses you choose. Whether or not you choose to install an apron can make a difference too. For an accurate cost estimate, we always recommend getting a personalized quote for your specific project.
According to Bill Bernard, Regional Sales Manager for Kitchen Magic, prices for these top-selling countertops have fluctuated over the years. In terms of overall price in today's market, here's how these materials compare:
Quartz this is usually the more expensive option per square foot.
Corian can run the gamut, but generally speaking, private collection styles that beautifully mimic stone surfaces can be just as expensive or even more expensive than granite.
Granite this is generally the cheapest material of the three, with the exception of standard solid Corian.
Don't forget that these three countertop surfaces aren't the only options. Many of our customers love the new laminate countertops offered by WilsonArt® and Formica®.
Ultimately, only you can decide which countertop material is best for your kitchen.